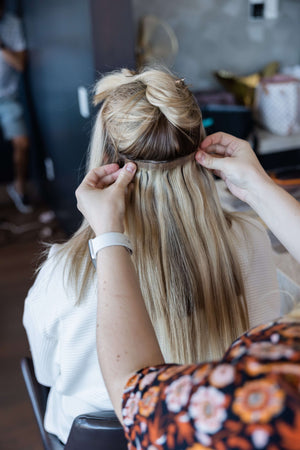 What Inspired us to provide the most obtainable luxury hair extensions?
Shana Dee
Founder of Lumen Luxe, Celebrity Colorist
No one wants a fake... so why would you wear fake synthetic hair? In the words of Cher from Clueless, "As If!" 
That's what set Shana out to provide the most luxury quality extensions on the market. 
When she found out "other" extension companies can say they have Remy hair but blend it with synthetic hair, that was the moment she wanted to eliminate fake hair for good, plus create an extension line that's
100% Human
100% Remy
100% Cuticle in Tack
Top of the Line Quality
Custom selected hair color blends in every shade. 
Using her color background, she custom designed each shade to create a blended pop of color to blend easily + and mimic your balayage color, while also adding dimension.  
Knowing women like to change their hair, she developed the line so you don't have to choose your exact color match.  You can blend two different shades together to create more highlights or take your color darker.  You can mix and match to change your look + hair color in minutes. 
Shana Dee's motto for Lumen Luxe is: Hair That Goes Places. The extension line is designed for daily use, special occasions, and wherever a woman wants to go... Lumen Luxe are the best hair extensions.